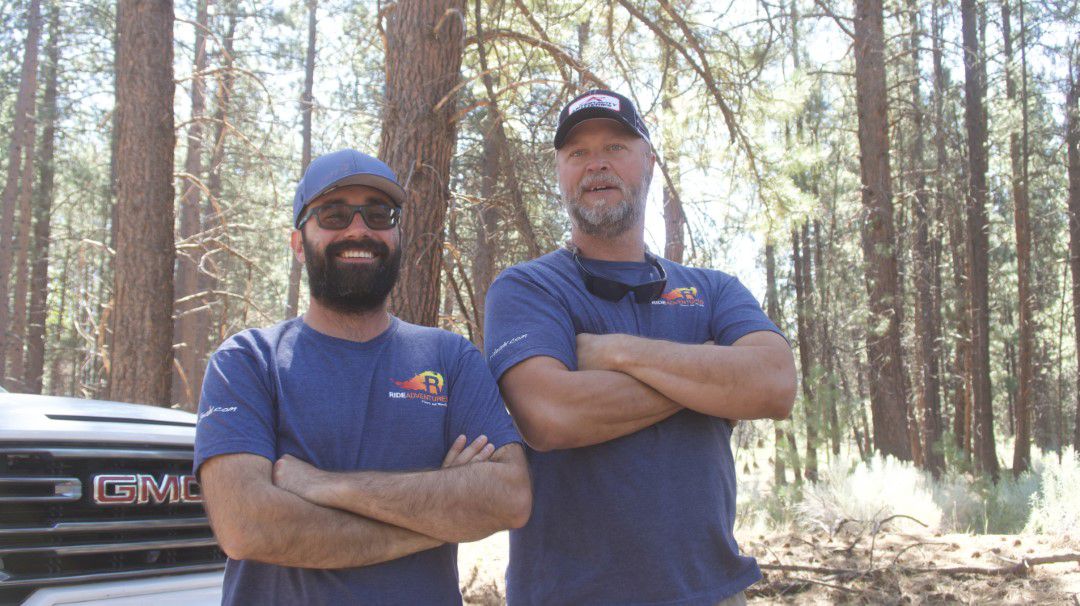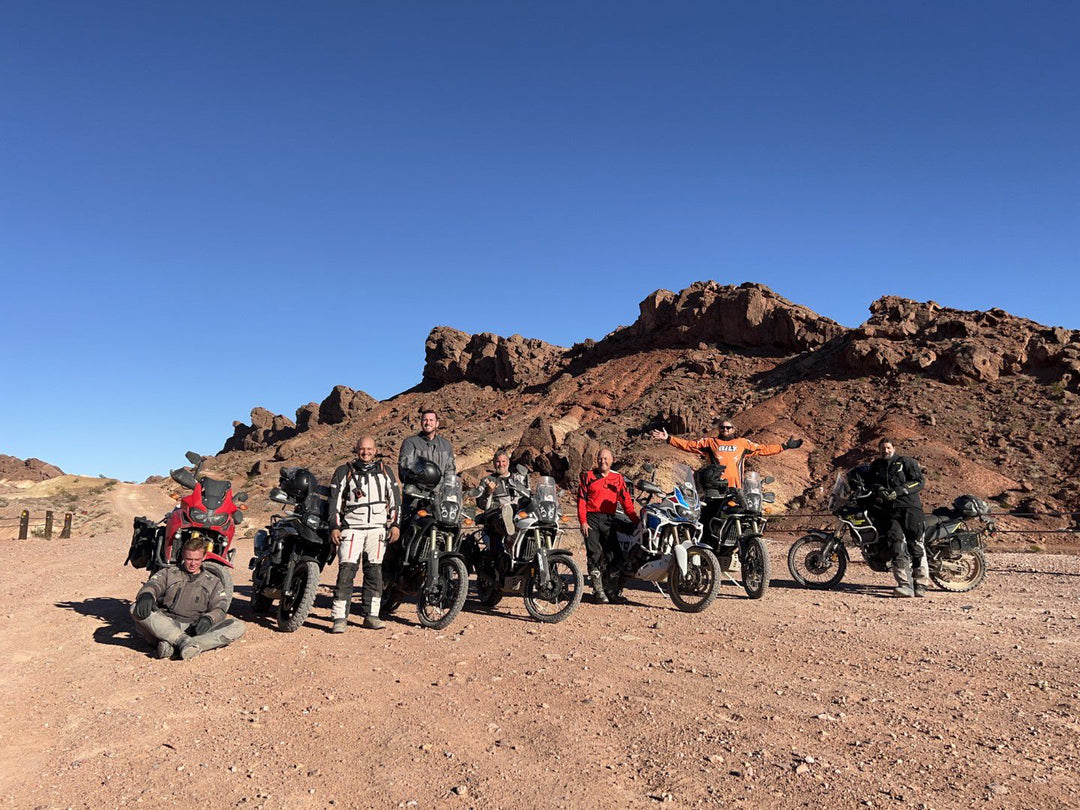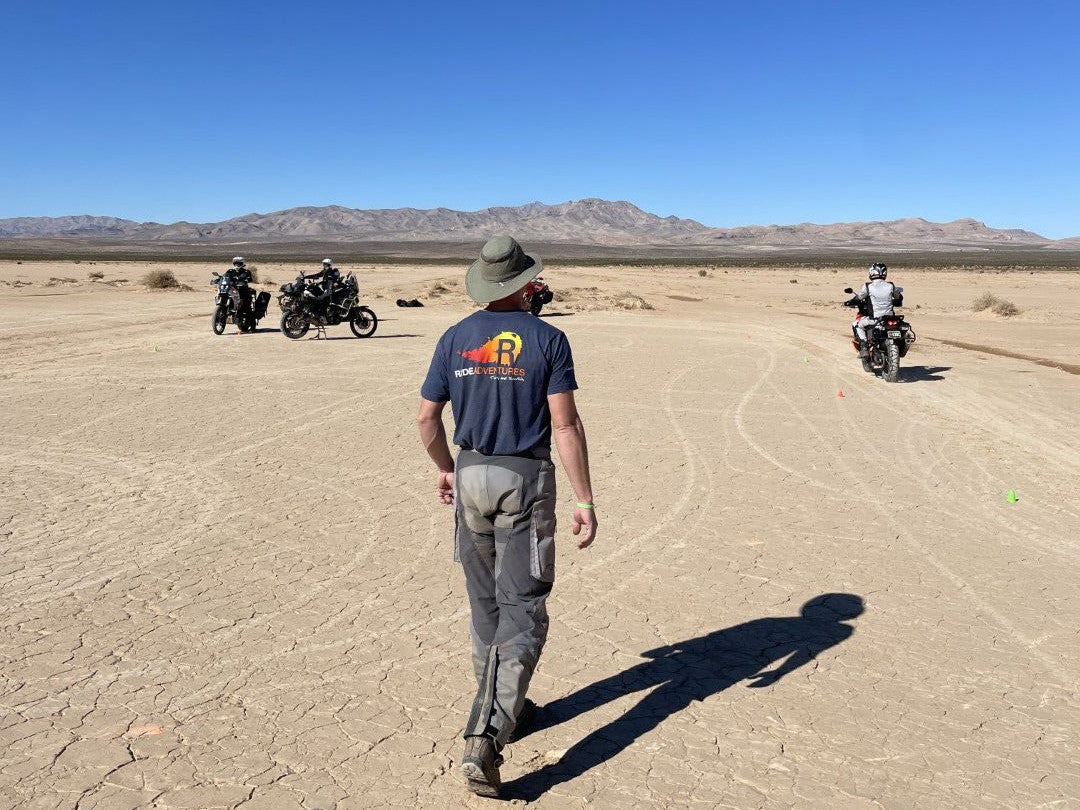 Pahrump, Nevada Off-Road ADV Training | 1-Hour from Vegas
---
Low stock - 2 items left

Inventory on the way
Build Your Off-Road Motorcycle Skills and Confidence With Off-Road Adventure Motorcycle Training
Location: Pahrump, Nevada, USA (About 1-hour Drive from Vegas Airport)

Gain Confidence To Conquer Any Terrain
We understand the challenges riders face when venturing off-road – it's a whole different ball game compared to riding on smooth pavement. Off-road riding presents a unique set of obstacles and demands that can leave even seasoned riders feeling uncertain and out of their comfort zone.

Master Body Positioning, Balance, And Obstacle Navigation
From proper body positioning to mastering balance techniques and navigating obstacles like a pro, you'll learn from the best in the business. Our instructors are here to guided you with the know-how to travel to places you've never ventured before. 
Personalized Attention and Immediate Feedback In A Controlled Riding Space
Our training program stands above the rest for several reasons:
We follow a proven and dynamic drills-then-ride format, empowering you with practical skills that translate seamlessly to real-world scenarios.
Our instructors are not just teachers; they are mentors who go above and beyond to assist, explain, and demonstrate motorcycle riding techniques.
Personalized attention and immediate feedback in a controlled riding space set us apart, ensuring you receive the guidance you need to fine-tune your control and build confidence.
Our instructors will never make you feel insignificant or boast how well they ride, our goal is to help you on your off-road riding adventures. 
To participate in this training program, riders must have at least 1000 miles of motorcycle riding experience. This ensures that all participants have a solid foundation of riding skills before heading out on the trails.

Participants can bring their own bike or rent from our fleet. If you bring your own bike, it must have at least 50/50 tires and be an adventure-ready bike. Proper protective gear is also required, see our minimum gear request here. Our bikes will have a tank bag for small daily items. 
Private Training: If you prefer, we offer private training sessions for a more personalized experience. Please contact us below under "Ask a question" for more info. Pricing starts at $550 for the first rider and each rider after is $450. Private training can be 1 or 2 days. 
We take safety seriously and provide a safe and controlled environment for our training program. Our instructors will teach you how to ride safely and responsibly.
If you haven't, check out the ADV Moto Training Overview Page for more info. RIDE Adventures Terms & Conditions.
Training Start & Finish: Pahrump, Nevada
Type/Format of Package: RIDE Adventures Off-Road Training for ADV riders focuses on the fundamentals, riding to practice and enhance your skill set, and getting direct feedback from our instructors. Practicing on a variety of terrains and gaining insight from our instructors all combine to make riders ready for a variety of real world scenarios.
Riding Skills/Competency Level: Designed for Riders with at least l000+ miles of previous motorcycle riding experience, and either no experience off-pavement, or a modest amount of simple off-pavement riding prior to participating. This training is about working on basics to create self-sufficient riders, building your dual sport confidence and capability from the ground-up.
Duration: 2 Training Days. First day is working on skills and drills. Second day is more of an expeditionary ride to practice and solidify what you've learned.

Start and End Time: We'll meet up at 8 and end around 4. Training meeting location in in Pahrump with details sent after purchase.
Training & Terrain: A mix of terrain types typical in the adventure riding world, from simple hard-packed gravel to some of the loose stuff, including sandy conditions and everything in between.
Weather Statistics: Check Vegas Weather  
Group size: Typically 5-10 bikes (including instructors)
ADV 1 Course: 
Time to build your command over the 4 most important factors and fundamentals for motorcycling with our ADV 1 course as you venture out into the world of terrain possibilities ahead. This course is made for riders with at least 1000 miles of overall motorcycle riding experience, even if none of those miles were spent in the dirt. We'll be talking you through some fundamental riding drills, and help create a foundation for a successful, safe, and efficient riding future. Riders booking this course are either those leaving the pavement for the first time, or Riders who have been out exploring, but still have occasional doubt about their ability to conquer new terrains and situations ahead most safely and efficiently.
Drive & Acceleration - The combination of throttle, clutch, gear selection and other factors all combine for what we accelerate toward in this world, and add to much of the riding fun we have along the way. Let's hone-in on each Drive factor by practicing drills and riding skills that prepare us for the variety of terrains ahead once we leave the pavement behind.  
Braking - Each has a dramatic impact on our ability to stay safe, comfortable, and see what lies ahead down that next dirt road. We'll run through drills and riding skills that highlight your ability to use those brakes in a linear manner, and show how doing so can maximize the suspension and traction available to us. 
Balance & Body Position - An efficient, comfortable, and athletic position is possible whether we're sitting or standing, so let's discuss and drill on how to find ourselves in the best of each for the variety and exploration ahead. From making sure we're not wasting energy to being in the most athletic position possible, we'll practice skills and options available as terrain changes and traction needs evolve on the planet beneath you.
Vision & Intention - From the physical direction our bodies and eyes are pointed, to how our brains process what becomes of each riding moment, maintaining a balance of high visual horizon while absorbing the specifics beneath is key to getting where you want to go. As all of this combines with the other factors, let's make sure our "heads are in the right place" as we continue to explore new terrains and situations.
ADV 2 Course: 
If our ADV 1 course has been completed, and you've got at least a couple thousand more miles of off-pavement riding that included specific sessions of "practice, practice, practice!" on the skills we worked on in ADV 1, then it's time to move on to our ADV 2 course. We'll start by testing those Adventure Riding skills at a higher level, this time with more intensity and challenge involved. Anyone doubting their command over these skills or their ability to safely succeed and survive when trying new terrains should be booking for one of our ADV 1 course dates. 

Our ADV 2 course is available to those who feel completely competent in the ADV 1 skills. In ADV 2, we will continue putting those previously practiced skills into action on more intense terrains and demands than we worked on in ADV 1, along with other new challenges and situations like:
Obstacles & Objects - There's plenty of them out there, so let's work on some of the things we can do with our bodies and bikes to make sure that nothing gets in our way and that we can get out, over, and around more situations most efficiently.
Bike Turnarounds & Options - Whether you're sitting on, standing next to, or still riding your bike, the variety of situations we encounter may demand a variety of solutions for getting your motorcycle pointed another direction. Each rider's own physical condition, bike of choice, confidence and skill level makes them able to handle these situations differently, so let's cover the possibilities and see which ones are right for each rider and situation.
Hill Climbs & Descents - Further check your command of the 4 factors and how they are necessary in a variety of sloped situations. Restarting on hills and getting unstuck may lead to a need to turn your bike around again anyway, so get familiar with how to handle a variety of situations on slopes whether you're headed uphill, across, or down.
Ruts & Line Selection - Enjoying those hill climbs and the occasional rainfall means that ruts may have formed, so let's review best choices for how to handle each situation. Analyze the factors involved in navigating deformations in the terrain, and work on the best ways to stay upright, even when things don't turn out as planned along the way.
More SAND! - Even experienced adventure riders say they hate it, yet none of us needs to. Let's continue our mastery of conquering sandy situations by intensifying the situation, and making sure we're using the right body positions, balance, and options to keep building on and get through most efficiently. Our goal is for you to recognize the ability you've gained to "no longer sweat the sandy stuff."
Rental Motorcycle of your choice:
-Honda CB500X = $400
-Yamaha Tenere 700 = $440
-KTM 790 Adventure / R = $500
-Honda Africa Twin CRF1000 = $460
-Honda Africa Twin CRF1100 (2020+) = $480
BYOB (Bring Your Own Bike) - You get 2 Days of professional instruction and coaching by our experienced guides on your own motorcycle. We'll also throw a RIDE Adventures shirt & some swag your way.
Not Included:
-Flights
-Accommodations
-Visas if necessary per your passport
-Personal Items, gifts, snacks, etc.
-Special activities (rafting, fishing, etc.)
-Meals, Alcohol, Fuel
-Personal, Medical, Trip or Travel Insurance
-Fully Refundable Security Deposit for rentals (*Please inquire on specific costs associated with your requested rental or tour package)
If you're not bringing your own bike you can rent one of ours. Each bike will have a tank bag for your daily gear. Our bikes are also equipped with a Quad Lock Phone Mount BASE, we don't supply the specific case for your phone.

Seat heights for each bike listed in the drop down menu above.
Rental Motorcycle of your choice:
-Honda CB500X = $400
-Yamaha Tenere 700 = $440
-Honda Africa Twin CRF1100 (2020+) = $480