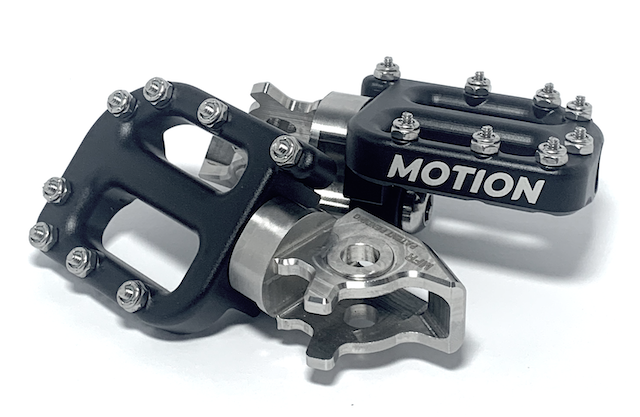 Flex footpegs (#HCR) FITS: Honda CRF, CR, African Twin | Motion Factory Racing
---
Low stock - 5 items left

Inventory on the way
Don't struggle to maintain a good grip and avoid slipping off your footpegs with Motion Factory Racing's two-part footpeg system that ensures full contact and maximum grip on the leading and trailing edges.
Check out there tech: https://shop.rideadv.com/collections/motion-factory-racing
The fully assembled footpeg package includes the following:

-2 platforms
-Right and Left Stainless Steel mount with "limited lifetime warranty." See the warranty page for details. Spring and pin not included. Uses OEM springs and pins. 
-2 Chromoly steel spindles with reusable thread locker. 14mm wrench. Torque spec 30 ft/lbs 
-4 spindle bearings
-2 orings
-2 nylon lock nuts that use an 8mm socket wrench. *IMPORTANT*  If you are ever installing the platforms onto the spindle the nylon locking nut torque spec is 2 ft/lbs (hand tight) Once you feel it bottom out stop tightening and visually inspect to make sure the nylon in the nut has engaged with the last couple of threads on the spindle. Over-torquing/tightening will cause the threads to strip and fail. 
-2 bushings rating 80A
-2 bushings rating 90A colors will vary based on the stock at hand.
-2 Chromoly steel bushing bolts (bolt grade 12.9) with reusable thread-locker. 6mm Allen wrench. Torque spec 25 ft/lbs 
*All Hardware (spindle and bushing bolt) are non-heat treated and designed to bend back straight. Steal has excellent fatigue strength when it comes to getting bent. Footpegs tend to take the most abuse out of all the components. We designed our hardware to bend rather than brake in a significant impact. We find that a wrench or adjustable wrench will quickly and easily bend the bolt back straight. Please avoid using a hammer. A little leverage from a long-handled wrench or pipe will do the job. 
. 
Fit for Suzuki:
RMZ 250-450 years: 2010-2023
We process your order in 24-hours. Shipping take up to 48-hours with some larger items.
We ship from several locations but in general shipping takes 2 to 5 business days to get to you.