6 BEST ADVENTURE MOTORCYCLE HELMETS: UNBIASED WITH PROS AND CONS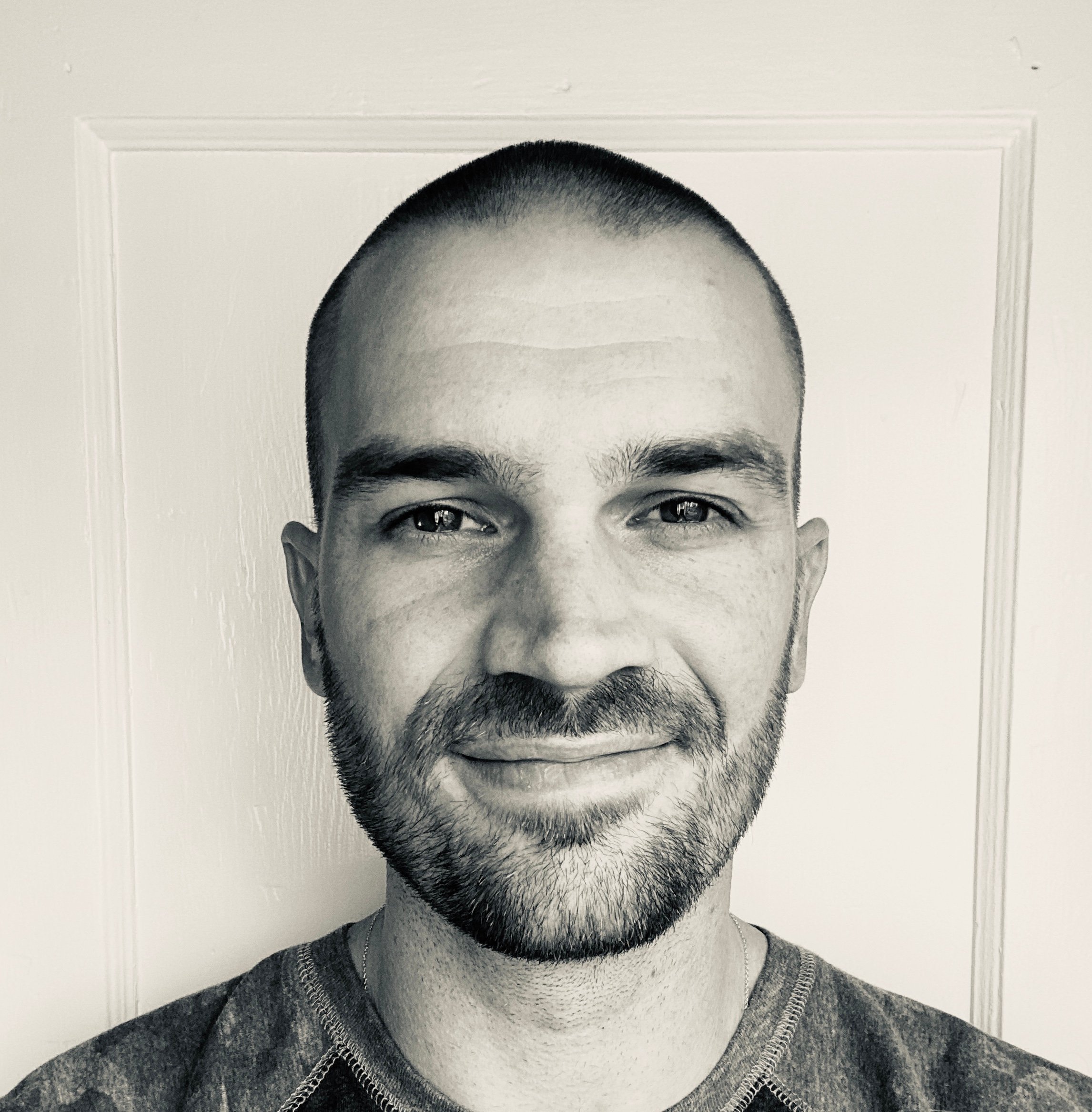 Posted by Kurt Spurlock on September 4, 2021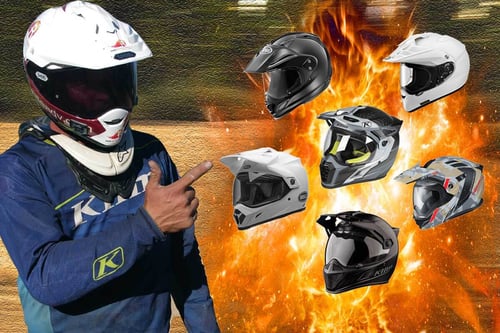 Disclosure: RIDE Adventures is a participant in the Amazon Services LLC Associates Program as well as other affiliate programs, designed to provide a means for us to earn fees by linking to Amazon and affiliated sites at no extra cost to you. Please see our Disclosure for more details.
You've got plenty of choices for an adventure motorcycle helmet in 2021... but what really makes a helmet worth your hard-earned money?
What Makes A Good Adventure Motorcycle Helmet?
About 20 years ago, Arai invented the adventure motorcycle helmet when they dropped their original XD model to a... lukewarm... reception. 
The public didn't really know what to make of it. 
Some folks took it as a "supermoto" helmet thanks to its dirt-meets-street styling. A few testers even tried using it on the track with less than encouraging results. 
That was back in 2003. Lucky for us, Arai knew they were on to something, and stuck to their guns, introducing an improved XD2 in 2005. The helmet started popping up in ADV forums more and more, and slowly but surely the style began growing alongside the dual sport segment in general.
By the time the XD3 was introduced in 2008, the adventure motorcycle craze was well underway, and every major helmet manufacturer in the market had an ADV lid in the works. 
Arai's current XD4 is still one of the best adventure helmets on the market, and many consider it the benchmark in the industry. 
In the article below we take a look at what makes an adventure motorcycle helmet like the XD4 "good", and see how well the more budget-friendly helmets in the market today compare to Arai's gold standard.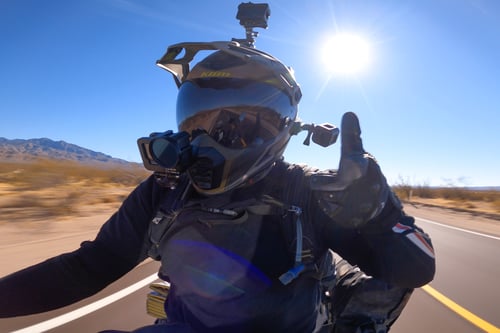 "Garrett the video dude sporting Klim's lightweight Krios Pro on our CABDR route"
Our Take On Adventure Motorcycle Helmets
When the original Arai XD was released, a few key features made it unique.
Most notably was the fact it's shell was shaped like a motocross helmet.
What I mean by that is the XD had an extended chin bar, a massive eyeport, and a sizable sun/dirt/roost peak jutting out the front. 
We consider all of those things essential to a good adventure motorcycle helmet. 
In addition to the overall form of the helmet, there are a few other features that we consider must-haves to sit at the ADV table: 
Compatible with goggles (preferably with the shield up or down)
Flow enough air for comfortable off-road use
Good enough aerodynamics for highway speeds
Significantly quieter at highway speed than a motocross helmet


Generally speaking, any adventure motorcycle helmet is going to be a tradeoff between touring and off-road features. 
Even some of the quietest ADV helmets out there like Shoei's Hornet X2 simply don't compare to the sarcophagus-level quiet of touring helmets like the RF-1200.
Still, we prefer helmets in this segment to be reasonably quiet (earplugs should be optional, not mandatory) on the tarmac without sacrificing too much ventilation for sweaty off-road shenanigans. 
The choice of whether or not to wear goggles is often debated, but anytime you're riding through areas that are: (a) hot, and (b) dusty, you'll wish you could ride visorless without sandblasting your retinas in the process.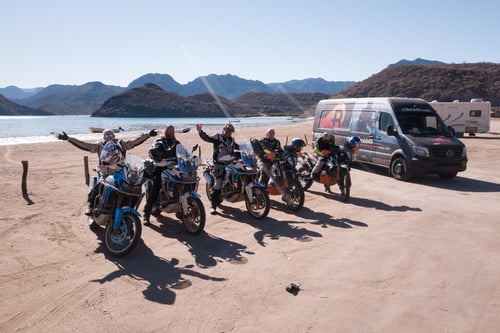 We do a fair amount of desert riding like this on our "Baja On Down" tour, and can't recommend goggles enough out there.
Assuming all that sounds reasonable to you, here are some of our favorite helmets that check all those boxes:
Our Favorite Adventure Motorcycle Helmets of 2021
Although the ADV helmet market has blown up over the past decade, it's still a relatively small offering compared to segments like touring or racing helmets.
For the list below we included both budget picks and premium offerings, but weeded out lids that are both cheap and cheaply made. 
*(helmet number order is random)
#1  Klim Krios Carbon
 Klim's Krios helmet was a huge step forward for adventure motorcycle helmets when it dropped in 2016.
It had a host of premium features like a hand-laid carbon fiber shell, a goggle-friendly visor system, and a peak that didn't drag at highway speeds. 
Weighing in at just 3.4 lbs, it was also one of the lightest helmets ever made, and hands-down the lightest adventure helmet you could buy. 
The original Krios was almost perfect, save for one glaring detail: The ventilation just wasn't on par with other helmets in the segment like Arai's XD series. 
The main culprit was found to be the chinbar vent, who's massive intake vents shot air straight under the rider's eyelids because it had no other path to travel.
Still, at about $100-$200 less than other "premium" adventure motorcycle helmets out there, this is a fantastic lid with premium features that punch way above the asking price.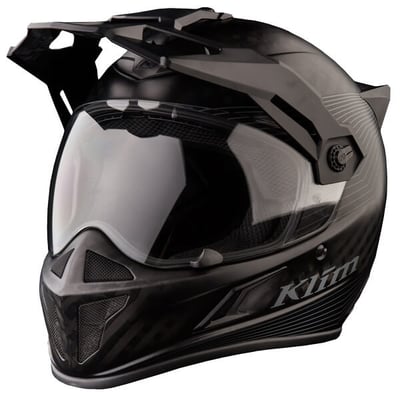 CHECK PRICE:
Klim Krios 
Pros:
Low weight = minimal fatigue
All day comfortable on or off road
Visor design is perfect for use with goggle
Cons:
Doesn't vent as much air as we'd like
Would like to see a few more safety features
#2  Klim Krios Pro
Klim heard the prayers of the adventure motorcycle community and launched the upgraded Krios Pro helmet in 2019. 
They kept all the features riders loved, fixed all the things they didn't, and added some serious technology to boot. 
The superlight carbon fiber shell is still there, for instance, as are aerodynamic (and removable) peak and goggle-friendly shield.
The chinbar vent got a much-needed update, which resolved the achilles heel of the original Krios.
Klim also incorporated Koroyd impact protection into the Pro model. That's a big deal. 
If you're not familiar with the folks at Koroyd, they've developed an impact absorbing material made from heat-welded hollow tubes (you may have seen their bright-green honeycombs peeking out from select motocross or mountain bike helmets) that outperforms traditional EPS foam protection. 
The Pro also has magnetic Fidlock helmet straps, which allow you to take your helmet on and off with gloves without fumbling with any D-rings. 
Aaaaaaand Klim threw in a Transition shield for the money, which seriously sweetens the deal considering it's a $150 upgrade on the original Krios adventure motorcycle helmet. 
Some folks that do a lot of transitioning in and out of dense woods don't care for the Transitions system, but Klim includes a regular clear visor in the box with the Krios Pro as well, so those folks can just go ahead and keep it to themselves.
Still, if you're not a Transitions fan, you might have a harder time justifying the extra cost of the Pro model.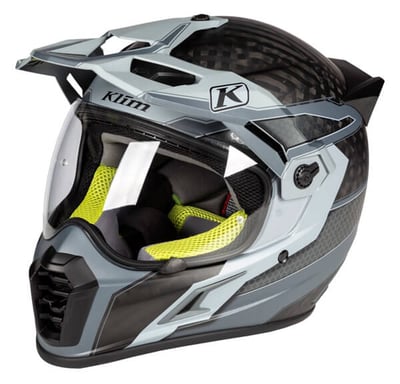 CHECK PRICE:
Klim Krios Pro
Pros:
Vastly improved ventilation
Upgraded safety features
Fidlock system is SO SWEET
Koroyd impact protection is top-shelf
Still one of the lightest helmets to ever do it
Cons:
$200 more than the original Krios
$100 more than the Arai
Transition visor isn't added value for everyone
#3  Shoei Hornet X2
If you've been following our Youtube channel, you know we're huge fans of Shoei's latest version of their flagship adventure motorcycle helmet, the Hornet X2. 
They've got their fitment down to a science (they offer four different shell sizes), their detachable peak feels non-existent even at highway speeds, and Shoei has also managed to make one of the quietest dual-sport style helmets on the market. 
The visor works seamlessly with goggles and there's no drama opening or closing it with them on. It also provides a huge field of vision and is "optically correct" meaning there's little to no visual distortion along the bottom of the shield. 
We don't have any serious complaints about the Hornet if I'm telling the truth. If I had to pick at something it would be the overall weight of the helmet, which is a full nine ounces heavier than the Klim helmets on our list. 
The large vents along the helmet peak also allow a decent amount of sunlight through, which can create dark spots on your shield if you opt for the Transitions lens.
Like that sticker wrap and RIDE Adventures design that you see on Eric's helmet in most of our videos and the photo above? Check out the custom graphics installations being done by Ryan Abbatoye Designs out of California.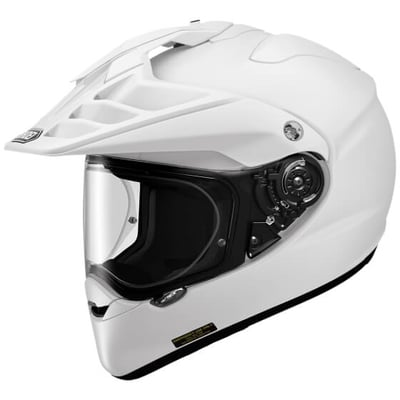 CHECK PRICE:
Shoei Hornet X2
Pros:
Super quiet at any speed
Best highway manners on our list
Sufficient ventilation for off-roading

 

SNELL & DOT safety certifications
Cons:
Heavier helmet, nearly 4lbs
Peak vents make dark spots if you use a Transitions lense
Doesn't vent as well as Arai
#4  Bell MX-9 Adventure MIPS
Bell's MX-9 Adventure helmet is the most popular "entry level" offering in the adventure motorcycle segment, and for good reason. 
At just 3.7 pounds, it's lighter than everything on our list except the Klim Krios. 
It's also the only helmet on our list using MIPS technology, which is a safety feature borrowed from the world of mountain biking. 
MIPS (or Multi-directional Impact Protection System if you're in no hurry) is a sliding plastic plate between the comfort liner and EPS layer of a helmet that reduces the rotational forces of impacts. There's a long scientific explanation you can dig into here, but the short explanation is it reduces the likelihood of brain injuries. 
It's also worth mentioning here that the MX-9 Adventure keeps getting less expensive every year despite its safety improvements and ongoing popularity.
The MX-9 Adventure also shares a good bit of its DNA with the popular MX-9 motocross helmet including its ludicrous amount of airflow.
Motocross-level ventilation is both a plus and a minus though, because some of the wide-open vents can't be closed, which means you might feel a little moisture coming through them when riding in heavy rain.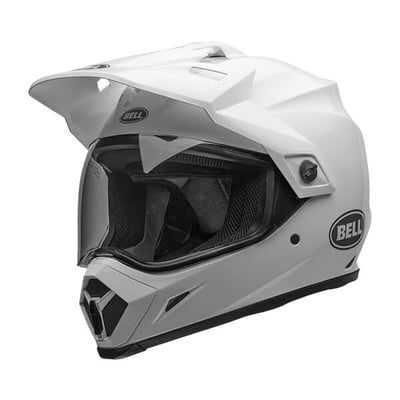 CHECK PRICE:
Bell MX-9 Adventure MIPS
Pros:
Ventilation works great
MIPS technology = safer helmet
Most helmet for the money in this segment
Cons:
Peak starts catching air around 60 mph
Motocross ventilation = louder helmet
#5  Arai XD4
As we said above, Arai effectively invented the adventure motorcycle helmet with their original XD model.
Now in its fourth iteration, the XD4 is widely considered the helmet to beat in this segment. 
It does everything well, has the most well thought out padding system in the industry, and packs a ton of premium safety and comfort features. 
Ventilation has been further improved over the previous model with added or enlarged ports at the chin, upper exhaust, and side cowl areas.  
Safety in this helmet is exactly what you'd expect from Arai, and includes their handmade superfiber shell, integrated zylon mesh fabric, and a multi-density EPS liner that saves weight without sacrificing structural integrity.
It isn't quite as quiet as the Shoei on the highway, but it does flow air better in off-road situations, and weighs about 200 grams less. 
They're both great helmets, so if you're torn between the two I recommend choosing based on your preference for on-road versus off-road comfort.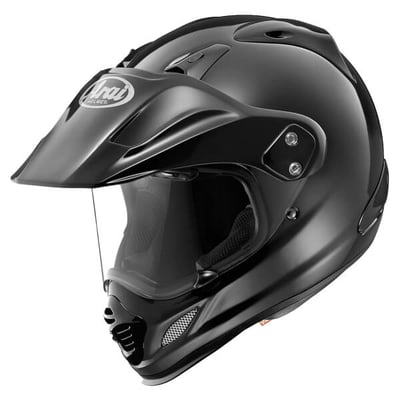 CHECK PRICE:
Arai XD4
Pros:
All day comfortable on and off road
SNELL rated, tons of safety features
Super simple visor adjustment
Vented face shield
Adjustable liner guarantees perfect fit
Cons:
Premium features = premium price
Little louder than the Shoei
#6  Scorpion EXO-AT950 (Modular)
If you're a fan of the Bell MX9 Adventure's price but prefer a modular helmet with some touring comforts, Scorpion's EXO-AT950 is a great helmet for the money. 
Modular systems have a huge fanbase, but options are severely limited in the adventure motorcycle helmet market.
The AT950 is pretty much the only choice out there for modular/adventure unless you're looking to drop two or three-times as much money on a Schuberth E1. 
Honestly though it's a better helmet than the Schuberth for anyone planning on spending any real time off-road as it vents a good bit more air and weighs in at the same four pound mark. 
Four pounds puts it in the same weight range as the ultra-quiet Shoei, and while the Scorpion can't quite compare to the Shoei in that regard, it's much quieter than other adventure motorcycle helmets at this price point.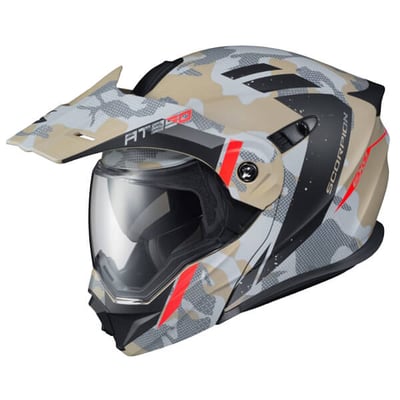 CHECK PRICE:
Scorpion EXO-AT950
Pros:
Drop down internal sun visor included

Quiet on the highway

Easy to use modular system if you're into that

5 year warranty!

BEST bang for your buck if you're on a budget
Cons:
Less ventilation than the other helmets on our list

Can't close the shield while wearing goggles.
Our Final Thoughts On What Makes A Good Adventure Motorcycle Helmet…
Ultimately, we feel the same way about helmets that we do about any other piece of adventure motorcycle gear: Safety is the priority, creature comforts are secondary. 
But that's good news for helmet shoppers, because you actually don't have to spend a ton of money to have a great ADV helmet with serious safety baked in. 
I'm a huge fan of the Bell MX-9 Adventure, for instance, but I'm also willing to put up with some road noise to save a couple hundred bucks. 
Helmets like the Arai and Shoei are 100% quieter with the visor down, and if that's important to you, you should spend the money on it. Afterall, you'll be spending a lot of time inside your helmet on tours like our seventeen-day epic through Southern Peru. Had to fit in one more shameless plug since we live off tips from tours after all ;) 
You really can't go wrong with any helmet on this list. If your current helmet situation is less than confidence-inspiring, pick one up before your next ride and drop us a comment to let us know what you think. 
---