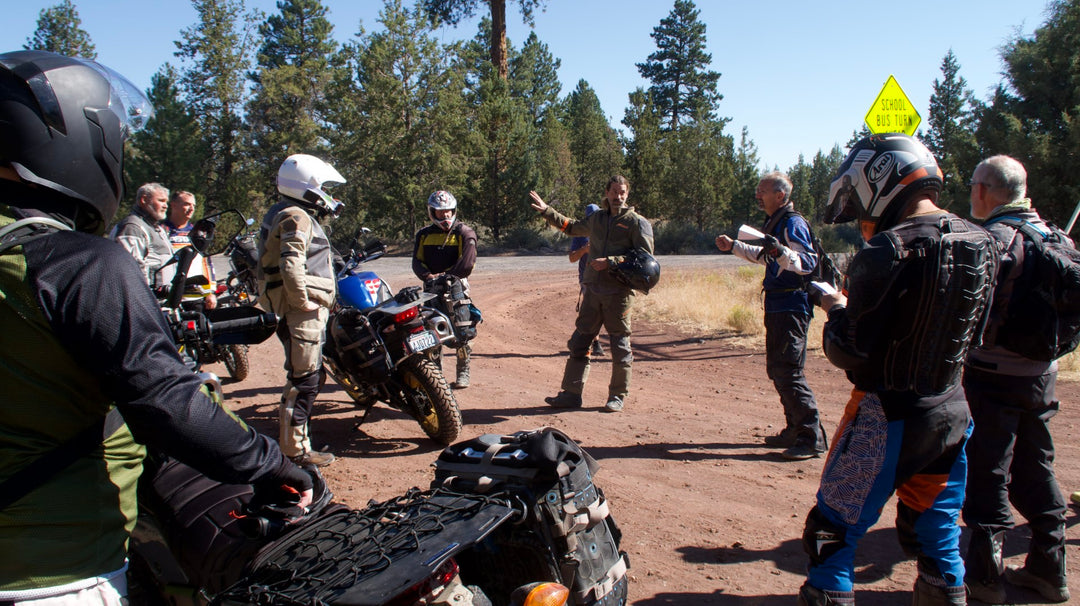 Adventure Ready Course: Unleash Your Off-Road Potential
---
In stock, ready to ship

Inventory on the way
This course is currently taking place in Bend, Oregon. It's a great addition to our ADV Off-Road Expedition Training, but can be attended by anyone.
Get ready for the ultimate adventure motorcycle experience with our exclusive Adventure Ready Course! Designed as a complement to our in-person off-road training course, this course will equip you with the essential knowledge, skills, tips, and tricks necessary for off-road travel.
Whether you're a beginner seeking to build a solid foundation or an experienced rider looking to refine your techniques, this course has something for everyone.
This Course Covers:
ATGAT & Proper Protective Riding Gear: Discover the importance of ATGAT (All The Gear, All The Time) and learn about the proper protective riding gear that ensures your safety and comfort during off-road adventures.
Travel Tool Kit and Essentials: Create your own travel tool kit tailored to your specific motorcycle needs. Identify the tools required for various tasks, such as removing the wheel. Practice using your travel tool kit for maintenance and repairs at home to build confidence. (30 minutes)
TCLOCS Pre-Ride Motorcycle Inspection & Maintenance: Learn the TCLOCS method for conducting a thorough pre-ride inspection, ensuring your motorcycle is in optimal condition before hitting the trail. Topics covered include tire preference, condition, and air pressure, controls, lights and electrical systems, oil and other fluids, chassis, and chain.
Trailside Repairs: Gain essential skills for performing trailside repairs, including fixing flat tires (tubes & tubeless). Discover bead breaking hacks, and learn how to make your tire rideable using grass or other materials in case of irreparable flats. Additionally, explore how to trailside center stand your motorcycle without a proper center stand and master techniques for repairing drive trains, checking and adjusting chain tension, and performing masterlink repairs.
Kickstand Sensor Bypass and Broken Lever Hacks: Engage in discussions and troubleshooting related to kickstand sensors. Learn practical hacks for dealing with broken levers and cables, equipping you to handle unexpected situations during your adventures.
Troubleshooting Techniques: Develop valuable troubleshooting skills to identify and resolve common issues that may arise during your off-road journeys.
Route Planning & Navigation: Learn how to plan routes and navigate off-road using navigation devices, paper maps, and online resources such as GAIA maps and REVER. Considerations for planning routes include weather conditions, season, geography, distance between fuel stops, and how many miles you can cover in a day.
Safety and Emergency Preparedness: Ride and travel with a companion whenever possible, ride below your limit (80% rule, leave 20% margin for error), and carry a first aid kit. Learn about communication devices such as Spot, InReach, and satellite phones for emergency situations.
Additional Course Details:
The course takes place the day before the main training and is held in Bend, Oregon. You do not need to be signed up for training to take the course.
The course runs from 12pm-5pm.
The maximum number of participants is 12 to ensure everyone receives personal instruction.
There will be times of standing and sitting during station trainings.
We suggest bringing your motorcycle manual, travel tool kit, tire repair kit, hat, and sunblock.
After purchase, we will email you additional specifics about when and where to meet.
Cold drinks and snacks will be provided, but we encourage you to have a good lunch before the course.
Don't miss out on this opportunity to enhance your off-road skills and build the confidence to handle anything the adventure throws your way. Join us for our Adventure Ready Course and become the ultimate adventure rider.
We process your order in 24-hours. Shipping take up to 48-hours with some larger items.
We ship from several locations but in general shipping takes 2 to 5 business days to get to you.